Minus 17 degrees celsius in Munich...Are you kidding me I thought?!
But I was glad, having booked my flight to perfectly tempered Florida already, visiting my good friend and guide Michael Mauri.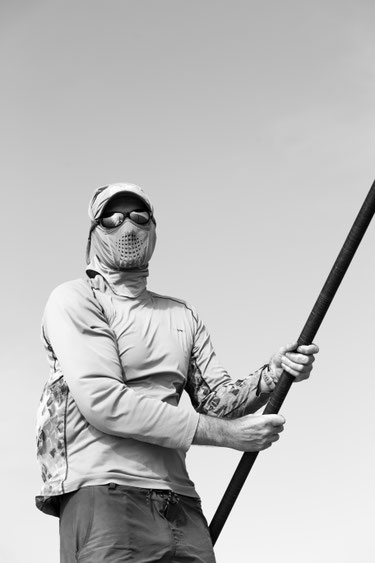 Michael moved to the US several years ago and now offers saltwater charters and flycasting courses on Floridas treasure coast in the town of Stuart.
Together with his wife Emily and her daughter Emma, he's doing what he loves to do, spending as much time as possible on the water, fishing for a large variety of species.
Snook, jacks, tarpon, bonefish, ladyfish, redfish, speckled trout and sharks, yep, right…sharks, and not only one species of them, an underestimated game fish!
We were mostly fishing the intercoastal area, where the a river drains into the ocean. The wind was a bit too heavy to fish offshore, where most of the bait is in February and March. At least this year. But even though the conditions were not perfect, Michael was able to guide me to snook, jacks, ladyfish and speckled trout.
The fishing was a broad variety from the flats, over the docks and channels to some green light action during the night.
The week with Michael and his family was fantastic! Flying over the water in his skiff, joking around, all in all having a great time in perfect weather.
What impressed me the most as a fish species was a group of rolling tarpon in a small dead end channel. That would have been the perfect end to an awesome holiday, but it unfortunately didn't happen. 
Having learned so much about saltwater fishing from Michael, I'm now back in Munich, waiting for the trout season to start, I think I will practice my strip strikes on those trout ;)
TL
Kristof
---