We knew that the day would come, and today, Ahrex gave green light: The new Freshwater hooks are now in stock and ready to ship to you.
Including several different models, the series completes a line up, Ahrex can be very proud of. 
---
We decided to go all in and make a line of the most important freshwater hooks, and release a complete Ahrex Hooks Freshwater Series. - Ahrex Blog
---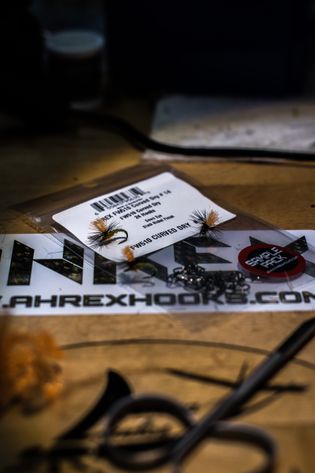 Every new model will be available as a barbless version, that's a big thumbs up I think.
The models include all sorts of nymph, wet and dry fly hooks. 
We received several models and sizes to build our own opinion earlier this year. 
The hooks come with a black anodization which is typical for the Ahrex.
What I really like is that every model and size has a relatively big eye, meaning you will spend less time searching for that f*cking hole with your hands shaking, seeing a big fish rising right in front of you.
You can easily tie on a #22 dry fly hooks (hint: this hook will exist ;-) ) without loosing yourself.
The traditional nymph hook has a long shank, allowing to keep realistic insect proportions when using a bead head.
The other hooks have good proportions as well, with just the right bend in the Curved models.
The hooks are very durable, yet a bit flexible to withstand potential false casts onto the river bank.
I'm really happy about how the hooks turned out, as the expectations were quite high.
---