Ahrex has gained very much attention the past years. Meanwhile, they have a decent line of hooks for you, the "salty" and predatory flyfisher. The company follows the Scandinavian fly tying traditions and is keen on producing the sharpest and most durable hooks.
This season, Lukas and I decided to fish double handers and tube flies for trout more often, simply because of the water conditions and the effectivity of the tube fly system. 
---
Specs: Ahrex HR430 - Tube Single
Short shank
Strong wire
Wide gap
Black nickel finish
Chemically sharpened with small barb (barbless version available)
Sizes: #2 - 8
---
---
 We want to share our honest thoughts about the hook in this blog post, so let's start.
This model is available both barbed and barbless. We chose second. "HR" stands for Home Run, a hook specially designed for anadromous fish like steelhead or salmon.

For our fishing, we use both aluminium and plastic tubes. The Ahrex hook fits very well into the silicone tubes at the end of each tube fly. 
Whats very nice about this hook is its proportions. The short shank has great Advantages when fighting a fish and the strong wire makes these hooks  durable and reliable.
---
---
Fishing a slow two handed rod with a skagit head and your fly far out in the river, expansion plays kind of a big role. Therefore you need a hook that is very sharp and that withstands a jumping fish shaking his head.
Seemingly, the Ahrex hook did that and we were able to land significantly more fish than in the beginning of the past season.
We wanted to know how strong the hook really is, as we thought the trout could definitely not bend it anyway. I honestly had more fear about buying a new flytying vise after the test. Only under really hard pressure this hook will bend a bit. Nevertheless, the small bend prevents the hook from just breaking apart, so it has successfully made it through our test.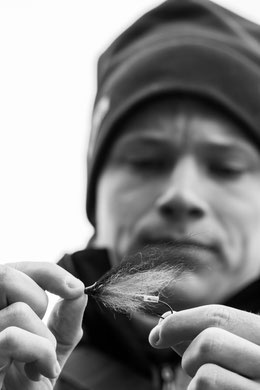 To conclude our review, I really have to say that this hook impressed me a lot. Yes, it's really the small things that matter ;-)
The hook is the only think that keeps your contact to the fish , and I know way to many people fishing crappy hooks and blaming something else.
The Ahrex Tube Single WILL keep the contact and get you more fish. More importantly it's a hook you can trust. 
 As wanna-be ecologists we appeal to fish the barbless version of course, except you don't necessarily want to release a fish.
But that's another story... ;-)
Tight lines
Kristof Reuther