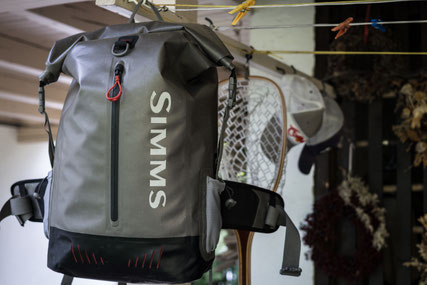 Six months with the Simms Dry Creek Backpack are over.
I took it everywhere. University, biking, airplanes, boats, shopping and of course flyfishing.
It helped me during heavy rainstorms and prevented my iPhone and camera more than once from drowning.
I'm an outside kind of guy, meaning that I spend as much time as possible outside by the river. Shooting a lot of movies, I have to keep my cameras and lenses safe & dry.
Now I want to give you my best try of a comprehensive review about the backpack.
---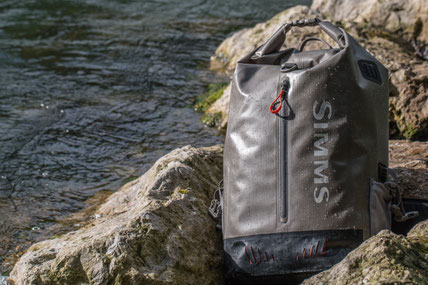 Specs
Waterproof TPU (thermoplastic polyurethane) coated fabrics
Weight: 44 oz. (approximately 1250 Grams)
Capacity: 36 L
Closing system: Rolltop
Sizes: One size
Price: 169 $ (189 €)
---
Comfort
As this backpack is one of the bigger rolltop backpacks out there, I really appreciate the waste belt. There's also a small and removable chest belt. The shoulder harness system is very comfortable, even on long hikes or fishing days. And then, also the waist belt is very handy to relieve the weight off your shoulders.
---
Design
I oftentimes want to take a second rod with me. Simms therefore added a lash point on both sides of their backpack. Unfortunately, you need to buy an extra strap to secure the rods as Simms yet hasn't any to offer. The stretchy water bottle mesh pockets can be used either as the name says or, as also mentioned, as a rod storage. The pocket size could be a bit bigger in my opinion. No chance I can put a liter-bottle in there.
Oftentimes it's the small things that many people appreciate most. Here, it's the large D-Ring. It's a must have on each and every fishing backpack in my opinion. Simply for a net this D-ring is very handy.
Further, the inside of the backpack has several pockets, one is zippered, to offer. You can place smaller thinks like tippet spools, you phone or keys into them so that finding them later is no problem in the dark inside of the backpack.
---
Durability 
I was a bit skeptical about the bottom of the backpack. It feels like a very thick layer of plastic that get scratches every time you put it on the rivers gravel bar. I already have some.
But, speaking of it half a year later, I trust it.
It really might seem a bit sketchy, but if you don't run around with open knives or flies in the backpack, you be fine.
Nevertheless, I wish for bit of a reinforcement with a second abrasion-resistant layer, also working as a cushion for cameras and so on. Hard elements like flyboxes can otherwise scratch the material, like in my case. I used a towel as a second layer with worked fine and is always good to have with you.
---
What I don't like
I'd like to see a backpack, that already comes with straps to secure one or two flyrods. It should not be that much of a big deal for Simms. This backpack is made to be worn in the outdoors where it faces rocks, trees and of course water.
The bottom of the backpack should be the most robust part. I'd therefore highly appreciate a thicker material to not worry about it. In my opinion, the outside pocket, useful to store a wet rain jacket, is too small. I'd rather like to see a flexible mesh pocket than this stiff and inflexible outside pocket. that is good for leaders and a flybox.
---
What I like
Unlike many other rolltop backpacks, this one comes with inside mesh pockets to safely store small things like your mobile phone, keys or a wallet. There are several ways to close a rolltop backpack which is practical depending on how much stuff you have in it. The harness system is just great. Light and cushioned for a Long hike or day on the water. 
But most importantly - This backpack really is 100 % waterproof.
---
Final thoughts
Simms says on its website that the backpack is out of stock for a longer time. Maybe there's another one coming.
It's a safe feeling, knowing that the things you carry will stay dry, even under water pressure. The design, besides the things mentioned above, is great. The backpack is comfortable to wear , even on long fishing days.
I can store all of my equipment like fishing assecoires, clothes, camera gear and food.

To put it all in a nutshell, I really enjoy fishing and travelling with this backpack, but wish for several, small changes in the design.
I'd love to see a bit smaller version of the backpack as even chest packs like the Rolltop or G4 got quite big.
But maybe that's because I tend to go with as little fishing equipment as possible
The Simms Dry Creek Rolltop Backpack is comfortable, practical, and defintely worth its price.
Tight lines
Kristof Reuther
---