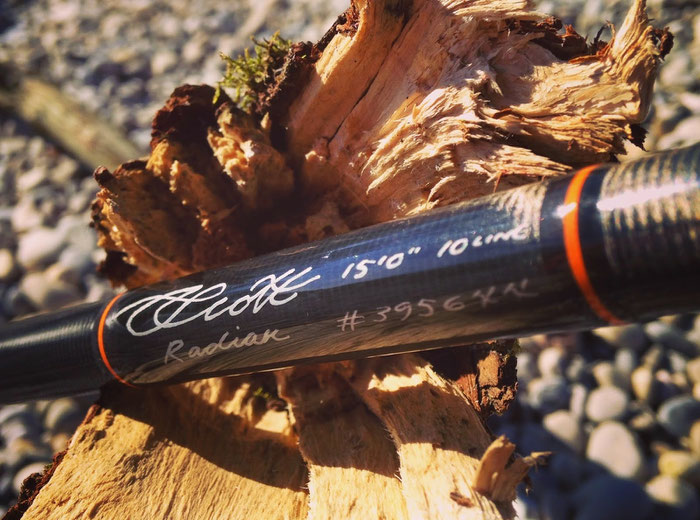 Today's salmon anglers set the bar for a double handed rod pretty high. It not only has to be light in hand due to the long hours on the river, it further has to have an action that gives the caster ultimate response to what he is doing in order to avoid tired false casts. 
After the huge success the Scott Flyrod company had with their award winning Radian single hand series, Tom R. Bekkeli from Flyfish Europe (FFE) in Norway came up with the idea of designing a double handed Radian-series, following the same technology as the single handed ones. 
So he sat down with a couple of great salmon flyfisherman on Norway and designed a couple of tapers which then were sent to Jim Bartschi, chief rod designer at the Scott Flyrod Company in Montrose, Colorado. 
The prototypes were mind blowing and that's how the "Scott Radian Ultimate Scandi" series was born. 
They are available in four different models, which handle each and every salmon fishing situation.
Radian 1267/4 (12,6" #7) -> ideal for any seatrout or light salmon fishing
Radian 1308/4 (13" #8) ->  a great choice for medium size salmon fishing
Radian 1409/4 (14" #9) -> an excellent allround salmon rod
Radian 1510/4 (15" #10) -> the big gun in this series
For more information please click here (Link will open a new window)
These models, which are all 4-piece, are at a price point of 1.095€, what makes them one of the most expensive rods in the market. 
I wanted to find out if they are really worth over a thousand bucks, and I can tell you, they are!
NOTE! The following review reflects my personal opinion, which is not based on any other person. 
I fortunately had the possibility to try out two of their models, the 8 and 10-weight. 
The perfect line for these rods seem to be the UST-shooting heads which were designed by Scientific Anglers also in cooperation with FFE. 
We'll make a review on them soon. 
When I put my hands on the 8 weight the first feeling I got was its incredible light physical weight!
What one has to understand about Scandi rods is that they aren't soft like most Spey rods. They are relatively "stiff" to cast short shooting heads with great accuracy.
Knowing that you can go out and cast it :-)
Even without a flyline or reel you directly feel the feedback this rod gives you when swinging it in your hands. These rods are made to be your ultimate fishing tool! 
I have to admit that I haven't caught a salmon with them yet due to my location in Bavaria but this rod won't miss in my bag when going for it. 
The short stroke method works pretty good, and I reached very good distances and great accuracy.
My favorite setup for this Rod:
- Waterworks-Lamson Speedster HD 4.0
- Scientific Anglers URL shooting line (0,78mm)
- Scientific Anglers UST shooting head in the density that fits for your river
The big mama of this series truly is the 15" #10. As the 8-weight, it feels very light in hand but a bit softer all in all, not only because of its length. 
This rod is the ultimate fishing tool, as Scott promotes all of its rods. 
But that doesn't mean not being a hell of a casting machine. 
Pick up a large arbor reel, a small-diameter running line and loop in a UST shooting head from SA and your good to go. Your setup could now be called the big-fish-finder. 
And if you stick to more traditional spey lines: no problem!
I tried out a 85 foot Carron Speyline which was thrown out with ease!
The components in this Radian Ultimate Scandi series are Scott-typical the top of what you can buy. 
Superb cork, solid guides and a black anodized reel seat give it a look of epicness.
The look is identical to the single handed Radians, but without a size-measuring point on the blank.
To put it all in a nutshell, we have to say that Tom R. Bekkeli and the Scott Flyrod Company did it again. They brought out a rod, that will improve the fishing for every one of us. Further to my mind, it has definitely raised the bar again for its other competitors.
Again great job guys, keep up the good work!
A big thanks at this point to Flyfish Europe for lending these rods!
Tight lines!
Kristof Reuther
---