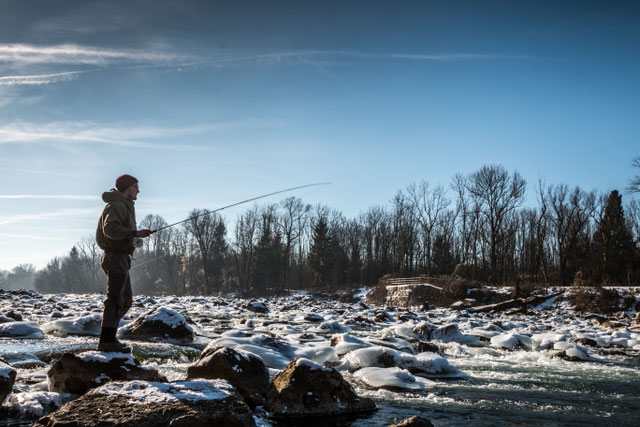 "I've seen a big one right above that third weir down the bridge. You better walk on the gravel bank from the right side, otherwise you could spook them. But it really doesn't matter because there are many huchos in that area."
I know exactly which one you are talking about... He's 101 cm long, a male, and has got dozens of scars from dozen fishermen trying to catch him. Tom caught him last season...
Speaking to fisherman about where to find the all mighty hucho, everyone has an answer, besides the one who really keep their secret. Well, the others have a secret, too, but they will tell you about the hucho that everyone knows. Vice versa, this hucho has already encountered every angler and his selection of streamers or wobblers.
The result is a bad chance to catch him, no matter how small or big it is.
Hucho fishing is about spending time on the water, seeing one of them chasing his prey or maybe even behind your fly but then turning aside. You have to be patient, you have to endure the cold weather, your frozen fly line in the guides, you have to believe in what you've just tied at the end of your leader and finally you always have to be ready for that one moment of the fish finally taking you fly.
Following your fishing mate's tips could of course be helpful and work in some rare cases but I prefer scanning the river by myself. A walk alongside the river can help finding new spots you think about fishing next time or you even see a hucho standing in front of a stone or chasing small grayling. Those walks are oftentimes without a flyrod, I mentioned the time you have to invest.
If you have found your fish or a spot that you know holds a good size fish, it is about getting creative in flytying because he may has seen the typical streamers fished by your competitors. And finally, be patient on your target. He might follow your fly one day or even bite the first cast you make, but normally you have to check that spot every single day as those fish are unlike any rising trout you ever fished on. He's eating seldomly so you have to have that little bit of luck making your cast at the exact time at the exact day.
I'm still waiting for my first really big one but I have hope, because...
Tomorrow is the last day!
Tight lines to you guys out there who are in search of what I am.
Wish me luck! ;-)
Kristof
Check out Instagram (@bavarianflyfisher) tomorrow to see if I was successful ;-)
---