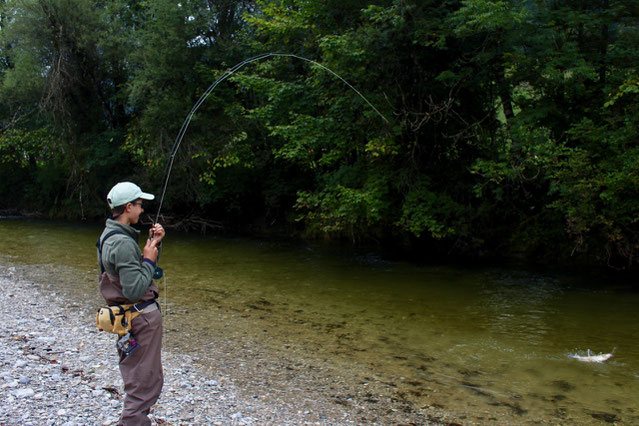 My first years of fishing I spend on little ponds with a normal fishing rod, catching stocked trouts and carps. Some years later I read one of the "flyfishing for beginners" articles in a normal fishing magazine. I was directly interested in this "unknown" fishing technique and started watching videos about it. 
After searching for a flyfisherman I fortunately got to know "Sailor", who taught me how to fish with the fly. I joined the "Isarfischern" which is a fishing club here. Together, we spent a lot of time along the Isar river, where I learned a lot about flyfishing from him.
Since then, I am a passionate flyfisher and in my opinion, there is nothing better than enjoying the freedom while fishing and the beauty of our nature, on a clear river while swinging a fly rod.
 Beside the Isar, I also fish the Jachen, which is a very beautiful, small creek close to the bavarian prealps and ideal for flyfishing.
I'm into flytying quite a lot, some of them were already shown here. 
My nickname, The Don, came up last year in Norway. You ask why? Well, while fishing the sea, I supplied the Dudes with a chunky saltwater fish, they weren't able to land sometimes. So one evening I earned the salutation: "The Don"
Like all the other guys here, I love travelling, especially with my flyfishing equipment. Apart from Norway I also visited Kenya last year. It was impressive to meet a completely different culture and learn how they live so simple with a minimum of resources. 
Perhaps you already know me from the pictures of the last years Norway-trip or of some articles on the blog, but I am very proud to be a real DanicaDude now!
TL Pablo
(sorry that I don't have Instagram, but I prefer to waste my time in more useful ways, like tying flies or fishing them😜)
---