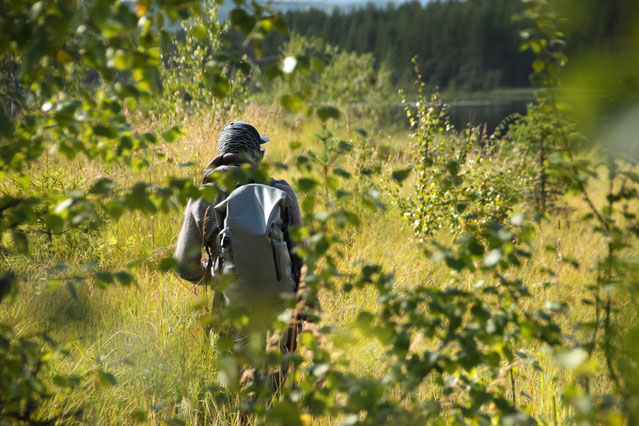 It was on our second day at the Rena river when we decided to quit trout fishing because of heavy wind and no surface activity in order to chase pike instead. We changed the five weights to nines and tens and headed to a place we knew from the year before.
It´s where the river drains into a lake; the whole inlet is full of nice coves and bays in the weedbanks. Here and there you can stumble upon the sunken stamps of the trees which used to be there before someone decided to build a dam and flood the whole valley. All this makes for a perfect pike habitat, and on our last trip we even got some on, but mostly real small ones.
Maxi was the one being most excited about it, since he "hasnt´t fished for pike the last five years or so...", and never before with a fly rod. This being said, he launched his first cast, maybe one meter out of the weed bank he stood on, and hooked a nice pike which made a good dinner.
Motivated by this quick success, Lukas and I started fishing as well, and only few casts later Lukas got one on, too. I was using a big, silver pattern, but since this year the water was way clearer than the year before I changed to a more sublte coloured tubefly. This somehow made the difference, and now I also started to catch fish.
We recognized that all the fish  we got that day were bigger than we remembered them from the last time. They´ve either simply grown quite a lot in one year, or their places had been taken by bigger ones for reasons we do not know.
Whatever, we really enjoyed the aggressive takes and the short, but intense fights with these beautifully coloured fish.
The fishing was not at all boring, and when you´ve managed a nice cast at the edge of some weedbanks or close to a sunken tree you fully expected a strike every second.
Sometimes we saw big wakes or splashes when a pike had followed the fly and then turned away or decided to attack it.
Few days later we were lucky enough to experience one of the best and coolest moments I´ve ever had when fishing:
We were sightfishing from shore and tried our best to convince a whitefish to eat our nymphs, because they were said to be delicious.
This kind of fishing reminded us a little to bonefish fishing, since these fish tend to pass in a group of maybe four to seven individuals with high speed. You really needed to get the nymph right in front of a fish, otherwise it wouldn´t take a look at it. I finally got one on when the others saw a real big pike, swimming upstream towards me. We tried to tease the pike a little with the whitefish while Maxi changed his nymph and 5x tippet to a wired leader and streamer. But somehow, the pike couldn´t wait for the streamer-snack, so he decided to crush the whitefish which was still on my line. He missed it the first time, then reorientated an got it on the second try.
All this happened one meter away of our pike sceptic Kris, who had  already gotten in the water in order to net the whitefish. We all screamed: "Holy shiiiiiiit!"
Well, that´s pike. They can be like that.
Cheers and Tight Lines
Church

---