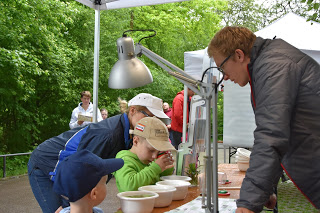 Let's start the week with a look back at last weekends event in Munich zoo "Tierpark Hellabrunn".
The event called "Lange Nacht der Biodiversität" (translated "Long night of biodiversity") took place on Saturday evening, where the zoo was opened until 12pm.
Animals could only be seen in their separate houses, but the evening was filled with wildlife documentaries, presentations, great live music and separate artists, besides a spectacular light show everywhere.
The "Bayerische Fischerjugend", a non profit organization, that cooperates with youth groups everywhere in Bavaria, together with Rainer, my brother Lukas and me, presented the project "Fischer machen Schule", what is difficult to translate into english. It's basically a workshop, that teachers could include as a new subjects into their class. The project contains all the information that a younger pupil should know about our home waters here in Bavaria. Not only the river or lake itself but also fish and insect life that is going on in these waters.
Over 6000 pupils have already joined a workshop, and together with experts they visited their home waters in search of insects or fish. 
Besides the project we demonstrated what insects or fish one can find in the river and how the angler can imitate these with flies. 
Everyone enjoyed visiting our booth and we were absolutely fascinated and proud about how much interest was shown to what we told.
A huge shoutout to the beautiful and well organized "Tierpark Hellabrunn"! Thank you for having us as a part of this great event. 
Tight lines,
Kristof
---