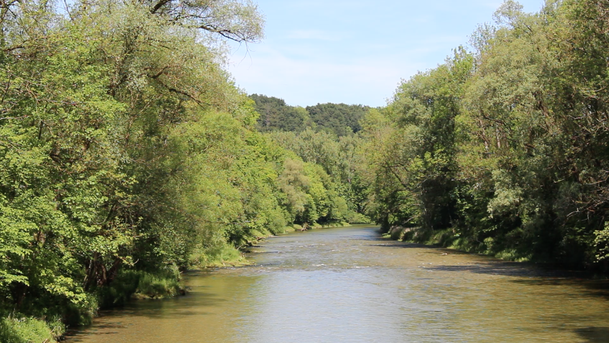 Together with a good friend, we fished the "Tiroler Ache" and the "Traun" rivers all weekend long.
After heavy rain within the week, the water of the Tiroler Ache was still pretty dull, so for us fisherman really hard to get in contact with a trout. Especially as we've never fished the water before. We tried our luck with streamers, mostly black wooly buggers, but struggled to find fish.
Apart from the fishery, the scenery and weather was just great. We went to the border between Germany and Austria, fished in the middle of a canyon and enjoyed every second we had at this beautiful piece of water. With hardly no other people or fishermen around, we found ourselves on a gravel bank, looking over the water surface, following mayflies or caddis on their journey onto the safe land (without being eaten by a hungry trout or grayling).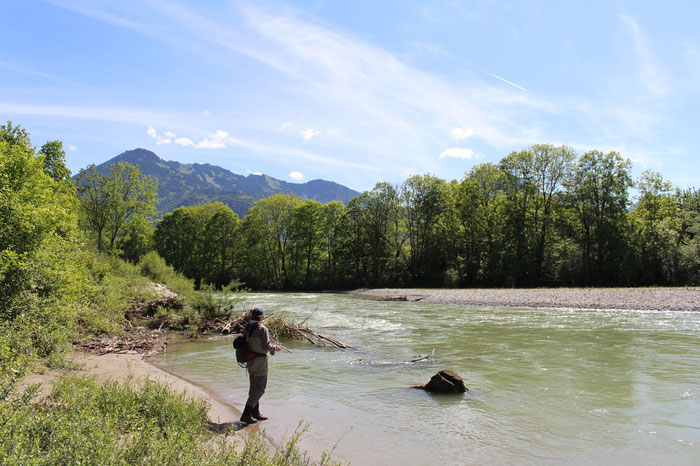 You could imagine how beautiful and fishy the deep blue pools would be with clearer water, but we couldn't wish for more that day. Chirping crickets and the sound of running water just made the time flying and after a long and hot day, we went back to our "home base" not far from the Tiroler Ache and settled down after a great day on the water.
What a great feeling getting out of your waders after a hot day on the water.
After a quick chat with some locals, where to spend the evening, a small pond was suggested, even reachable by foot. So we tried that out, and oh boy! What a nice location.
A small restaurant was placed directly at the bank, and after such a warm day, many insects were hatching right in front of us. The trout living there maybe had the same hunger like we had after a full day of fishing. After the sun set, we went home and looked forward for our second day of fishing, this time at the lowest part of the "Deutsche Traun" river.
This one was crystal clear and had less water, so we packed our things and directly started fishing again. We met some local fishermen here who helped us Newbies out, as we never fished this river before. We were glad to look at such great water and directly spotted our first fish of our little vacation. The river holds a good natural population of grayling and trout, we even spotted a hucho in one of the pools.
The river varies between shallow stretches with fast current and deep pools with many big rocks in them. The fishery was great and in this clear water, you had to watch out not to spook them.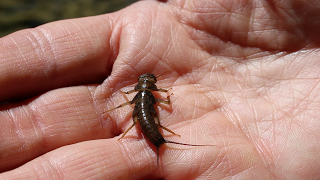 The stretch isn't very long, but perfect for a day of fishing. We wandered at the banks looking for pools and observed the water, which held massive stoneflies. Small glittery jigs made the fishing work in the end.
This weekend wasn't about catching numbers of trout, but rather about enjoying the nature and spending a great weekend with your friends.
So all in all, we couldn't made it better and hopefully, this wasn't the only time we fished these rivers. Hopefully you had such a great weekend as well.
So as always
Tight Lines
Lukas 
---