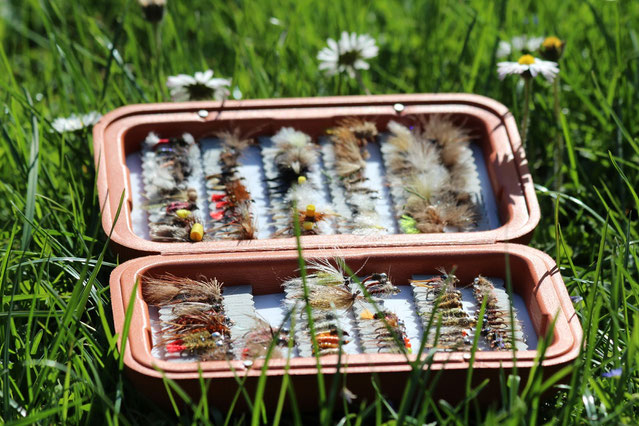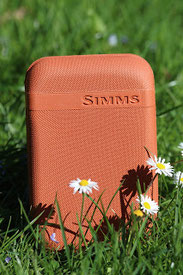 Last season, SIMMS brought out a dual-slot flybox that, to my mind, was super clever. 
A few weeks ago I bought myself one of them to try it out and share my thoughts about it with you. 
It is available in two colors, "boulder" and "Simms-orange". The orange is not that intense like on their Kinetic jacket, that I own and adore. Size is 15 x 10 cm.
The box is thick enough to store even your biggest dries, but not much thicker like other boxes like C&F for example.
Further, it is super light!
The handling is great to, slightly riffled on the surface. 
This box is not waterproof and closes through 4 magnets that a glued into the frame. 
I tried out storing my flies, from hook 18 to 12, and directly realized that the dual-slick system only works up to hook 14 maybe 12. Any larger flies are just to big, as you see in the picture. 
In my case, I'm not able to use each and every slot in that box. The same happens of course to your biggest dry flies. 
So from this point of view, I recommend this box to any of you, who fish small patterns, both nymphs and dries. 
What I don't like on most boxes I have, is that the slots are just too close to each other. That's fortunately not the case here. As the box is double-slotted, the slots on each side are about 1,5 times further apart, what I think is ideal. So I don't need to store flies 2 slots apart and  further get more flies in my box. 
Another good thing with this box is that you'll always find a free slot in the box even when you think it is full. Just stick it in verse vise.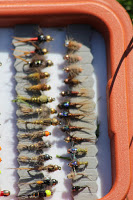 Probably not ideal for keeping it clearly structured but helped me out a lot already. 
To put it all in a nutshell I can say that I love the idea but that not everyone is able to max out its use. It is not meant to be a streamer box though.
The materials used are definitely top notch (EVA foam) and the size is  
The rows though could have been little further apart. 
Nice job Simms, it will stay in my bag for a while now. 
Tight lines,
Kristof
(This review, like all reviews, reflects our personal opinion. We don't get paid to write a review or say anything nice.)