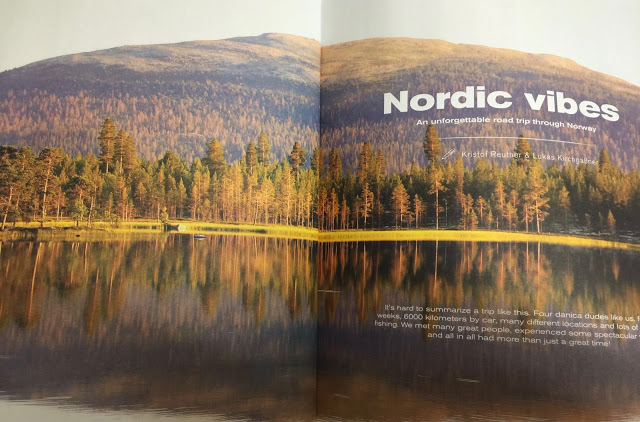 Every year, "Flyfish Europe"  from Norway releases a magazine, which includes their complete product range. Scott flyrods, Waterworks-Lamson reels, Simms clothing and Scientific Anglers flylines, just to name a few.
It is THE magazine in the word of flyfishing, as it also contains flyfishing stories from around the world and behind the scenes articles.
It was clear to me and my goal, that we had to come up with an article over last years 5-week-roadtrip through Norway, which we then would send to FFE, and hope that it is good enough for the magazine.
So a few weeks after our trip, I sat down and started to write. 
Lukas K. supported me in choosing cool pictures, sentence constructions and extra content. In the end I sent the article to some of my closest friends and asked them of their opinion. We were all really happy about it and couldn't await the results from Norway.
AND WE REALLY MADE IT!
A few days later, I received an email, that our article would be published in the next FFE magazine!
I am so stoked, that the plan really worked out and can't thank Flyfish Europe enough for this opportunity! 
If you're interested in reading our article from that super-awesome road trip plus other stories and a complete catalog of Flyfish Europe, I highly recommend getting one of these magazines at you're FFE dealer or for example at the "Erlebniswelt Fliegenfischen"/"EWF" flyfishing fair near Munich in a couple of weeks!
Enjoy!
We are also interested in your feedback on the article!
Tight lines and happy reading,
Kristof
---