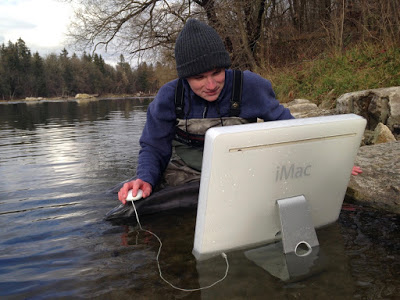 Now, the fishing season is finally closed till the mid of April so we can't write about fishing this time..
It was a quite normal day this November. We wandered around the banks at the river, searching for some rising fish, slurping some small, hatching Danicas from the surface.
We fished a bit and saw something white in the water. Normally the ground is quite dark so it was quite easy to see it, but we didn't know what kind of thing was lying under 2 meters of water.
So we went home, grabbed a big net and searched the spot we saw that misterious white thing.
We recognised some kind of display with a white frame and spotted a logo, so we were quite hyped to bury that thing out of the river.
I took my waders and tried to get into range to net it, without getting water in them, which I failed straight from the start.. It was quite deep there so I was struggling a bit, and with the current you have to try not to drift away. 
 With quite clear water, I spotted a bitten apple at the frame, so it turned out to be an iMac in our river.. The crowd was going crazy!! (Just 2 people..)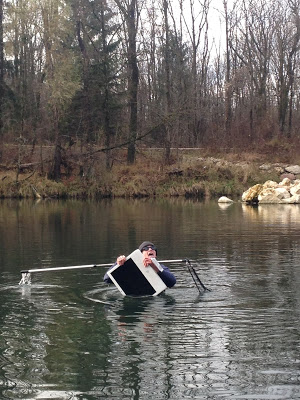 If you ever wonder how to grab an iMac with a net, it's hard. I didn't want to jump in the water because of the temperature in November so i tried to pull him to my feet and then lift it up. You can also twist the net around the stand to pull it up :)
Near the PC was the belonging mouse, all Apple Products.. 
 The iMac was, as you would expect, dead, so was the mouse. But it was a great experience to open up an iMac and looking at all the parts which were build in it. The stoneflies and shrimps were loving it also..
But I wondered, why would you throw a good looking iMac into a river?! I don't know if he was running before or not, but either way, why?!
And if you also found something really special in a river, lake or sea, let me know about it in the comments!
In that sense
Tight lines,
Lukas R.
---