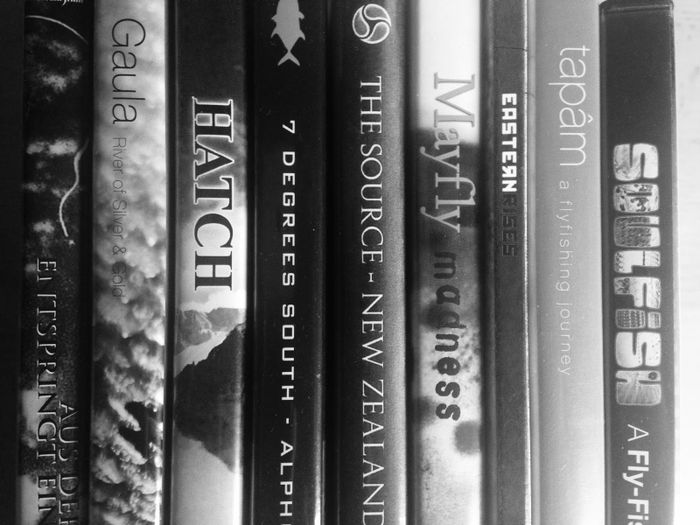 When it's cold outside and the waders are still frozen from the day of fishing before, my favourite thing to do is watching flyfishing DVD's (and flytying probably).
There are a lot of great ones out there and it always makes me think about where to travel this year.
I hope to fish saltwater for bonefish or tarpon some day, but there hasn't been an opportunity yet that I was willing to afford as a student. 
But if you watch "Gaula - River Of Silver & Gold" you think "Hmm...why don't I try to catch my first salmon in Norway, before flying over to Cuba or Florida?"
You see, watching those DVDs brings up a lot of thoughts, which is great!
If you're searching for two or three DVDs for the winter, the ones I highly recommend (out of my personal opinion!) would be: 
-"Tapâm - a flyfishing journey": My absolute favorite over the years! Flyfishing for Tarpon in a way that many people don't dare to practice - with a float tube. Some of the best timelapses, underwater footage and scenery I've ever seen. This film by Daniel Göz and Jan Bach Kristensen definitely makes you feel like travel. NOW! 
-"A River Runs Through It" or "Aus der Mitte entspringt ein Fluss": The most popular flyfishing film ever. Robert Redford has done an incredible job with it. The film is super long but tells a very great and also funny story, too. A good choice for all ladies out there, too! #bradpitt
-"Eastern Rises": It was hard to decide which one would make it to third place but in the end this film reminded me the most of what my aims in traveling are. Fishing places and rivers that no one has ever been fishing before. I guess that not many of you have been to Kamchatka yet, but many must have it on their list. Beautiful scenery, incredible fishing, and a great and funny story overall.
So that's it, I hope you enjoy the hours, days, weeks or months until the start of your fishing season with some great DVDs.
Tell us on Facebook, if you have a favorite one to share!
Tight lines,
Kristof
---