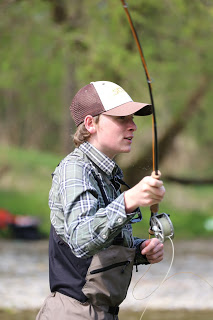 Hey look, we got a new member!
You ever wondered who this other guy is, who's shown on many posts here?
Like my brother Kristof, I sure love to fish with the fly and I am a real Danica Dude.
I'm not that much active in social networks but I won't decline a little fishing session and let the camera roll in the background, taking some photos and stuff.
What I love in particular is to travel all around the world, preferably with one or two flyrods.
So I got to many flyfishing destinations in the world, of which I'm very proud of.
Some information about me:
I'm a bit younger than Kristof, but that gave me the chance to learn fishing with the fly from him, so you can say he raised me, too :)
I played soccer for quite a long time and still learn percussion here in Munich. 
This summer I started studying and spend most of my spare time in my waders.
I'm quite an outdoor guy and love being out and find myself in a Backyard in Nowhere.
My homewater is the river Isar and I have the privilege to live directly at the river so I just have to walk 20 meters to fish. That's kinda nice :P
At the age of three I began spending time at the river banks with an older friend and through my Dad I came kinda infected with fishing. But the flyfishing aspect came only from my brother, Kristof.
I mostly fish for trout, but I'm open to some different species like pike or carp. They are incredibly fun to fish with a fly.
I fish not only single handed rods, a light two-hander is a great way to fish, too!
So here I am. I hope you know me a bit better now and maybe we will meet each other at a river :)
Tight Lines,
Lukas
---