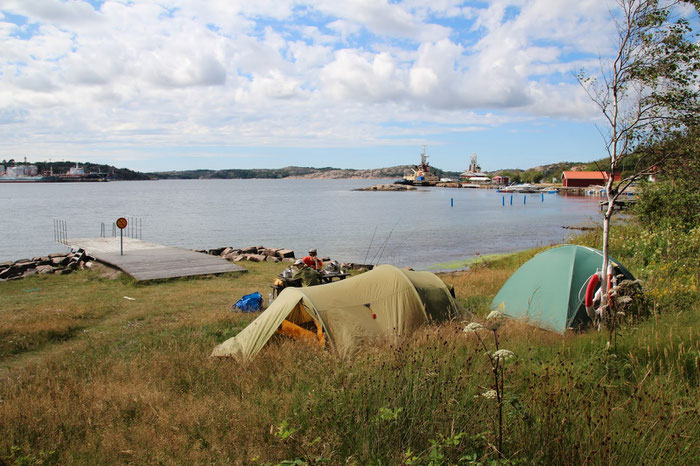 Do you know the feeling when you´re getting off a ferry, have a pretty long drive in front of you and a night with hardly any sleep behind you? Well, when we first put our foot on swedish ground we just thought "Shiiit, we need some seriously dose of sleep!". But nada, Norway was still few hundred kilometres away which cannot be couvered when chillin´at the beach. So four Bavarians made their way up north , along the western swedish coastline.
After a couple of hours driving we decided to find a spot where we could put up our tents, and off course do some saltwater fishing. That´s how we came to a small village called Lahälla in the swedish archipelago, and after exchanging a few words with the locals we were allowed to put up our tents directly at the shore – bingo! The fishing itself went quite slow, but somehow Pablo aka. The Don managed it to hook a seatrout, which was not only good looking but also good eating.
The next day we packed everything back into the Skoda and quickly made our way to Norway. After crossing the border we decided to head to one of the many fjords near Frederikstad. After pulling into a parkinglot, the rods were quickly rigged up and we gave the norwegian saltwater species a go with some polar fibre minnows, shrimp pattern and other flies we thought that might work well. This day the fishing was also pretty slow, but I was lucky enough to get my first mackerel on fly (what a fight on the five weight), but that was basically it for the day...
After an uncomfortable night in the car with the rigged rods right besides our heads and lots of rain and hail we went out for a couple of hours in the morning where Kris hooked a small seatrout and Pablo caught his first cod. That´s what I call a good start in the day!
But the restlessness got worse and we really wanted to "arrive" somewhere now, so we packed our things again and headed away from the salt towards the inland and hopefully some nice fish.
Tight Lines and stay tuned,
Lukas
---