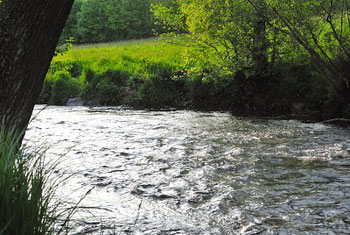 Hakuna Matata!
That´s what me and my dad thought when we both got off at work and decided to visit another stream in Eastern Bavaria: I had the best dry fly fishing of this year´s season.
The water was a bit low, gin clear and home to several bugs which got the trout in a feeding frenzy every two hours or so. Sometimes the hatch was on , then it went off long enough to give me some time to retie my leader or dry some flies, just to start all over again – what a dream... I don´t know how many fish I caught, but I stopped counting sometime around noon, which is always a sign for a really good day.
The trout weren´t neither really big nor really fat, but beautiful wild fish with black, red and blue spots all over them, and pretty good fighters, too!
---