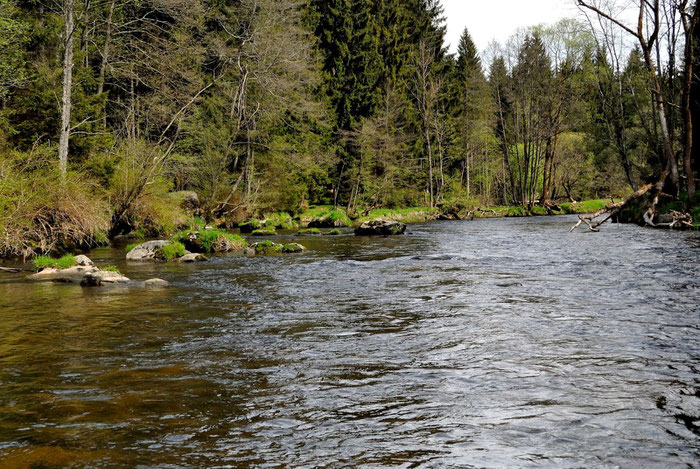 Warm weather, a little cloudy, hardly any wind. 
The forecast sounded perfect, so two fellows and I decided to fish one of the rivers in the nationalpark "Bayerischer Wald" in eastern Bavaria, near the border to the Czech Republic. To me, it was the first time at this beautiful stretch of water, and boy was I excited! 
As soon as we arrived at the river, I took a quick look before rigging up: few fish were sporadically rising and some pale morning duns were hatching. 
Since only dryflies and streamers are allowed at this riversection I decided to go dry and took my little four weight with me (I´m not really into streamerfishing for browntrout, especially not at a beautiful river like this one...). 
I sneaked to the rivers edge, sat down and watched. I saw a small rise, probably of a small fish, but who knows? I went for it, and the trout took my tiny dryfly at the first cast! Even though it was a small one, I was happy: a stunning wild trout in a stunning landscape, on the first cast – what more could I wish for?!
The fishing itself went a little slow, it always took a bit of time to find rising fish, which actually was quite surprising since the weather was perfect and even some flies (pale morning duns, blue winged olives and marchbrowns) were flying above the water. But, well, that´s why flyfishing isn´t a science, eh?
Nevertheless, I was able to land about nine or ten trout and one small grayling ( By the way, isn´t it always more fun if the fish are a bit challenging and not too naive?)... and the amazing scenery was rewarding enough.
---