Hey there,
as a reader it is always interesting to get to know the writer a little bit, especially when reading a blog.
So let me introduce myself...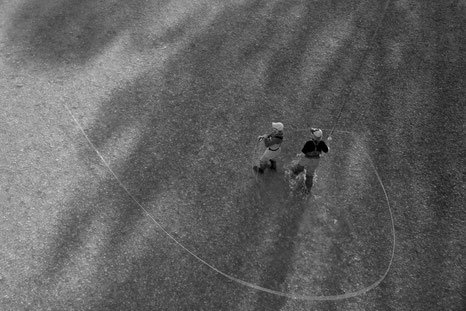 I grew up in the suburbs of Munich, in close proximity to the Isar river and so my love for the outdoors and the nature has long been predestined. My parents often took me to the Isar and soon realized that there's a connection between me and the element of water. 
I started fishing long before the age of ten, always under the surveillance of my father and in the company of my younger brother. 
Like every "normal" angler I started with lure and bait fishing but there was always that one rod in our shed that caught my attention. Much more heavy and softer than any other rod. A line, thick as a clothesline. I soon got fascinated and tried my luck, having no idea what to do. My father wasn't really into Flyfishing , and still isn't to this day, but he was able to teach me the basics. 
Soon I discovered my particular liking of  this kind of casting and fishing and quickly let any other technique pass by. 
At the age of 15 I switched my fishing club and joined the "Isarfischer"', already being a fly-only guy for about two years. Because of its over 1000 members I soon got friends with some people, that were great flyfisherman and especially great flycasters.   
Flyfishing year after year got me really into the sport and I quickly started speycasting and flyfishing for any kind of fish, not only trout.  
My commitment for Flyfishing quickly bore fruit and I was invited to be a flycasting instructor for several seminars and shows in and around Munich. 
Since then I teach flycasting and work at different trade shows, like the EWF. 
Flyfishing has brought me to several stunning places like the Rena, Soca and Gallatin river and I'm open minded for every species or location as long I can hold a Flyrod in the palm of my hands.
Like Lukas, I love traveling and taking photos, an ideal combination for some outdoor fanatics like us. 
Further, I played drums and football for many, many years, two hobbies that weren't able to be placed in the time schedule of a student that doesn't live in his hometown anymore. 
At the moment I'm studying environmental engineering with plans to work around the element of water or, if there's the possibility, the Flyfishing industry. 
I hope you like reading our blog and remain true to it, we will show up with many cool things in the future ;)
Tight lines,
Kristof Reuther
~Bavarian Flyfisher
---