Hi,
my name is Lukas Kirchgäßner and I am guilty for being a flyfishing addict. 
I met Kris few months ago and we soon discovered that we are soulmates. We decided to make this blog in order to share our passion for flyfishing and other stuff with you. Hope you like it! :)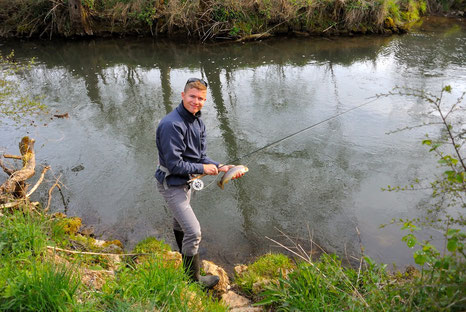 It might be a good option to start a blog like this with a small introduction: 
I´m a fanatic for water. In every sense of the word. Wherever there is a river, lake or stream that I am passing by, I can`t resist the urge to go and have a look at it ("Something rising, eh?"). 
My affair with this element started in an early age. I grew up on the countryside in Bavaria in Germany and , consequently, went playing with my friends outdoors. Although I liked the big forests near my hometown, I always went to have a look at all the frogs, fish and crayfish in the small streams nearby. ( Most of the time I somehow managed it to fall into the water and got wet feet...).
I started fishing when I was six years old, and converted to a fulltime flyfisher at the age of 16. A decision which I never ever regretted, since until today I haven´t discovered another type of fishing, or activity in general, which is as pleasant to excercise as (dry) fly fishing for browntrout in one of the nearby streams. I don´t have any lakes with a reasonable number of trout in it within a range of a two hours drive, but even if I had, I would probably still stick to the streams and rivers. I like moving water. I like the sound of the current, gently caressing the stones, or sometimes wildy rushing its way downstream. It ´s like music.
Most of the time, I fish some of the chalkstreams in the eastern part of Bavaria. They are usually small to midsize, but are nevertheless quite deep in some pools. Their cold water is ideal for trout, although some are home to other fish like pike, chub, carp and roach as well. And, the best of all, they produce good numbers of Ephemera Danica in the months of May and June. Dry Fly fishing at its best in a wonderful three and four weight territory.
When it is closed season for the trout, I usually stick to my second favourite species: pike. I love their fabulous aggressive take on a nice big streamer, most of the time directly at my feet.... awesome!
Besides fly fishing, I really like travelling (fortunately it is quite easy to combine both activities). Seeing new places, new people, new cultures is just so amazing and opens your mind ;) 
After I finished high school, I went travelling for six months through Australia with a good friend of mine. I had my first tropical saltwater flyfishing experience down there and even caught a few small fish! :) 
Furthermore, I practice martial arts for over 12 years now to stay mentally and physically fit. Photography and cooking are two other activities I´m getting into more and more, no surprise that they both match my love for the one and only: flyfishing. 
Tight lines and stay tuned!
Lukas Kirchgäßner
---